Perforated Rolling Shutter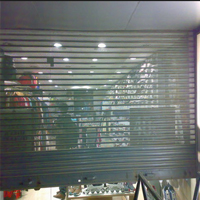 The Challenge
With the sincerity and hard work of our experts, we have carved a niche for ourselves in this domain by manufacturing Perforated Rolling Shutter
Features
Fine Finish
Robust Design
Durable
---
Founded in the year 1999, We "Navdurga Steel" is a reliable and prominent manufacturer of a wide and durable range of Rolling Shutters, Perforated Rolling Shutters, Electrically Operated Rolling Shutter, Mechanical Operated Rolling Shutter, Gear Operated Rolling Shutter, Grill Rolling Shutters, Motorized Rolling Shutters, Powder Coated Rolling Shutter, etc. We also provide the maintenance service for the same.
We are a Sole Proprietorship Company which is located at Vadodara (Gujarat, India) and have constructed a wide and well functional infrastructural unit and also chosen a team of capable and deft professionals who plays the most essential role in the expansion of our company. We are supported by a well functional and spacious infrastructural base that enables us to manufacture a durable collection of shutters and doors as per the industry set standards. This unit is segregated into sub-divisions such as admin, R&D, manufacturing, sales, procurement, quality testing, packaging, etc. Managed by our talented and committed employees, all the divisions are well resourced with the most essential devices and machinery. Also, to keep these shutters and doors in a safe manner, we have also developed a large warehouse.
Available in several sizes, custom made to the exact size and specifications. self-supporting, no structural tubes require to support the shutter coil. Small coil housing, coil housing is available in square, round and 45-degree shapes. wide range of standard colors to choose from. can be made in customized color, also scratch and corrosion-resistant powder coating. motorized or manual operations, and also remote access operation. External rolling shutters with perforated (Small holes) or punched (Rectangle Holes) slats can provide illumination giving between 30-40% light transmission when sufficient backlight is provided.